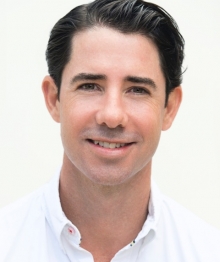 BIO
Luke was corrupted by the voiceover business as a child. Being one of the first RMKids he soon learnt "The Power of Voice" and the rewards that came with it – namely Lollies.
Alas, when Luke's voice broke, so did his career as a freelance voiceover artist. Thankfully he didn't follow the path of destruction that so many child stars find themselves travelling (probably because he was neither a star, nor had he earned the requisite millions to squander).
So a fairly normal childhood followed and after leaving school he was fortunate enough to land a job at Sydney radio station 2Day FM as an office boy. This led on to stints in production, promotions and on-air, before heading to Far North Queensland for a change of scene and career.
Through his 20's Luke worked in numerous different fields, from barman jobs for backpacker bars in London and Cairns to sales positions at leading London newspapers and financial organisations. Now in his tenth year at RMK, Luke's ambition is to continue to develop the business and help maintain RMK's position as the market leader for artist management in Australia (and to buy a classic motorbike and car and restore them).