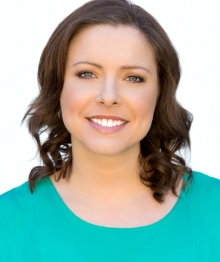 BIO
Renata Czyz (pronounced "Shush"). It's not just her name that's strange though, Renata is a complete odd ball!
Since her birth in an old Austrian Castle at the foot of the mountains, Renata has come a long way. Whilst growing up in Sydney Renata discovered her love for music, drama & art (she often broke into song because she couldn't find the key). It wasn't school Renata disliked it was the principal of it, so since graduating uni with a BA in Communications under her belt, Renata has worked in the Music, TV and Publishing industries. Traversing between HMV, Trading Post and Free TV, Renata has grasped the Ins and outs of many mediums providing her with the knowledge and experience that has brought her to the RMK family.
For more than 25 years Renata has been entertaining those around her, from her novelty songs, abstract dance moves, to her unique ability for reciting those songs or ads that have been lost but not forgotten. She approaches any situation with optimism and hopes to aspire to be a successful agent within RMK.
As you can see she's also well versed in bad gags!